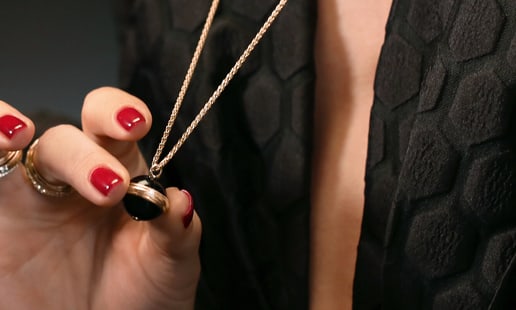 TAKING CARE OF YOUR JEWEL
Your Piaget creation deserves the right care to preserve its beauty over time. This section provides you with a few simple gestures to protect your jewelry. Piaget specialists in our boutiques are at your disposal to provide you with personalized advice.
SIX TIPS FOR CARING FOR YOUR JEWEL
Because you care about your Piaget creations and want to protect them, we offer a few simple care tips that will keep your creations looking beautiful and perfect.
Remove your rings or bracelets before washing your hands

Take off your jewelry before applying cosmetics. The particles present in perfume or face cream can tarnish your jewel if not eliminated by prompt rinsing.

When you lift or carry heavy objects, make sure they are not pressing against your jewelry as they could scratch or damage it. You should not wear your Piaget jewelry in situations that could lead to intense thermal shocks, especially for emeralds.

To clean your jewelry, gently wipe with a very soft brush dipped in soapy water, then carefully rinse and dry with a soft cloth. This cleaning procedure is not recommended for pearls or emeralds, or jewelry containing fabric.

Store your jewelry in its original box or wrap it carefully in a Piaget travel pouch (available from boutiques), to prevent it from being scratched. Make sure necklaces and bracelets are stored flat to prevent their links from being deformed. Also, chains should be closed to avoid any knots from forming.

Check your jewelry regularly, particularly the setting of the stones to make sure they are held perfectly in place.

Shake your jewelry close to your ear.
If you hear a slight noise, this could mean that the stones are no longer perfectly secure.

If you have any doubts, we recommend that you don't wear your jewelry until you have had it checked at a Piaget boutique.
TAKING CARE OF ORNAMENTAL STONES
As they are natural stones, special attention is required to protect them from damage, scratching and thermal shocks:
Store them in a fabric-lined box away from other jewelry pieces
Avoid extreme heat and/or prolonged exposure
Avoid perfume, moisturizing lotions and sun cream
Keep them away from water (hot/cold)
Clean carefully with a dry, soft cloth
If, despite your care, your jewelry remains dull and the gems lacklustre, take it to your Piaget dealer.
CARE ADVICE FOR YOUR JEWEL